Product CN-7878 - 8 port 100Base-Hub with 8 ports of 100Base-TX, RJ45 Connectors
Overview

CODENOLL's CN-7878 100BASE-TX Fast Ethernet Repeater is optimized for 100-Mbit Ethernet work groups by providing all the functions required for fault tolerant operation.
The internal network management functions constantly monitor each port for signal quality and will automatically disconnect a device that produces noise or excessive collisions. The device will automatically be reconnected when the error condition has cleared.
The hub will completely retime and restore the full amplitude waveform for each retransmitted packet. A full length preamble is also assured. This ensures packet integrity across the total network. Packets which exceed the maximum legal length for IEEE 802.3u are automatically truncated. This prevents a device from blocking the network by transmitting a continuous data stream or extra long packets.
The CN-7878 is a true Class II repeater allowing linking of up to three repeaters providing that the combination of round-trip delay through the repeaters and cables is kept below 5.1 µsec.
The CN-7878 can be rack mounted or remain free standing in proximity to the work group. Its eight 100BASE-TX ports are fully shielded, allowing use of Category 5 UTP — the same type of cabling pre-installed in many buildings and already used on many 10 Mbps LANs.
All required mounting hardware is included. Only off-the-shelf cables are required – and any network operating system that will run on traditional 10 Mbps Ethernet will run on Fast 100 Mbps Ethernet.
For connection to a 100BASE-FX F/O network, use the CODENOLL CN-7878 in conjunction with CODENOLL's TX to FX Fast Ethernet Converters.
Features
Class II Fast Ethernet repeater

Eight shielded 100BASE-TX ports

Port 1 has a crossover "uplink" switch for interconnecting hubs

Full complement of LED indicators

Auto-sensing internal 100V–240V power supply

Automatic partitioning/re-enable for each port

Complete internal network management functions including detection of 4B/5B violation

Fully transparent operation independent of network protocols and operating systems

Compatible with CODENOLL's Fast Ethernet Converters for connection to a 100BASE-FX F/O LAN or LAN segment

Ethernet/IEEE 803.2u 100BASE-T Standards compliant

Specifications
Power Requirements: 100V–200V AC at 50–60Hz (auto adjusting)

Power Consumption: 20 watts peak differential output voltage: +/- 2.0V typical

Cable: Category 5, 100 Ohm UTP

Receive Parameters: Differential Squelch Threshold: 750mV typical

Connectors: Eight (8) Shielded RJ-45

Indicators: Link/Activity: Eight (8) green
Partition: Eight (8) amber
Collision: One (1) red
Power: One (1) green

Dimensions of Chassis: 17.36"W x 1.73"H x 7.08"L

Weight: 3 lbs.

Operating Temperature: 0°C – 50°C

Storage Temperature: -25°C – 70°C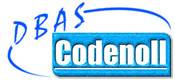 Passive Ethernet
Active Ethernet
Hubs
Switches
Request For Quote
New Products
Downloads
Manuals
Troubleshooting
E-mail Tech Support