Data Base Access Systems, Inc., formerly Codenoll, is a pioneering fiber optic company specializing in passive local area networks and related LED, hub and amplifier technologies. Codenoll was founded in 1980 to produce components for optical communications, products. In 1999, DBAS took over the Codenoll passive technology to make it commercially available.

With over 300,000 network interface cards and 20,000 hubs shipped, DBAS Codenoll holds 41 patents dealing with passive Ethernet fiber communication technology, collision detection methods, LED production methods, passive hub design and manufacture, and amplifier technologies for passive fiber applications. Codenoll's legacy 10 Mbps CodeNet Network Interface Card is widely used on US Navy nuclear submarines, aircraft carriers and frigates, as well as in other government and commercial applications.

DBAS has expanded Codenoll's product line with our new 26K 100 Mbps passive switch, converters and NICs capable of performing both active and passive communication over optical fiber.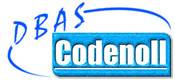 Passive Ethernet
Active Ethernet
Hubs
Switches
Request For Quote
New Products
Downloads
Manuals
Troubleshooting
E-mail Tech Support