P R E S S R E L E A S E S


DBAS, ACCTON PARTNERING ON OPTICAL SWITCH

Mountain Lakes, NJ, July 24, 2001 - Data Base Access Systems, Inc (DBAS), has entered into an agreement with Accton Technology Corporation, a leading international developer and manufacturer of data communications products. Under terms of the agreement, Accton will design and manufacture DBAS' 26K Smart Switch.

Based on its proven technology, DBAS' passive optical Ethernet LAN creates a new paradigm for local area networks and an efficient, cost-effective last mile solution for larger fiber optic networks. Their scalable 100 Mbps passive optical Ethernet solution consists of three main components, the 26K Smart Switch, the CodeStar Passive Hub, which requires no power, and the CodeNet(R) Network Interface Cards.

In addition to office and campus LAN applications, DBAS' solution provides the least expensive way to bring fiber to the residential market - both individual and multiple dwelling units - and can open up broadband applications in the home. "We expect the broadband and integrated applications market, fueled by movement toward digital delivery over Ethernet IP data means, to explode. With high reliability and lower cost architecture, our products are excellent candidates for fiber to the home projects," said Michael Palazzi, President of Data Base Access Systems.

Accton, based in Taiwan, is the OEM manufacturer for several leading, first-tier data communications vendors. Accton is the first Asia Pacific company to receive TL 9000, the world's highest quality rating within the telecommunications industry. Accton provides Ethernet and fast Ethernet products, including switches, Internet access devices, wireless and telecommunication solutions. "We're excited about the opportunity to work with Accton, as they bring great experience in developing and manufacturing communication products, as well as established industry relationships, to the partnership," said Palazzi.

In 1999, Data Base Access Systems took over the passive technology operations from Codenoll, a pioneering fiber optic networking company specializing in passive Ethernet local area networks. Codenoll's legacy 10Mbit CodeNet(R) Network Interface Card is widely used on US Navy nuclear submarines, aircraft carriers and frigates, as well as in other government and commercial applications. DBAS expanded its line with the 100 Mbps passive Ethernet network interface card capable of performing both active and passive communication over optical fiber.

Data Base Access Systems, Inc, is a privately held corporation. Further information about DBAS or their products can be found on their website, www.dbasinc.com, or through Sales, 973.335.0800.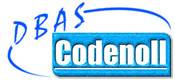 Passive Ethernet
Active Ethernet
Hubs
Switches
Request For Quote
New Products
Downloads
Manuals
Troubleshooting
E-mail Tech Support