Application #5 - Fiber To The Home


DBAS Fiber Optic Wide Area Networks for Enterprise and Campus Environments The First Affordable, Fiber to the Home LAN

WAN Applications

Data Services:

DBAS' most affordable network solution:
The CodeStar passive fiber based Ethernet network is scalable to 4-, 8-, 16- and 32- port configurations

CodeNet NIC's interface with the CodeStar Hub via multi-mode fiber (50 or 62.5 micron)

Uplinks use Ethernet gigabit links over single mode fiber

Network range (NIC to NIC) is 1.6 km
With up to 744* users per SmartSwitch, the DBAS solution will save on fiber runs to the Central Office.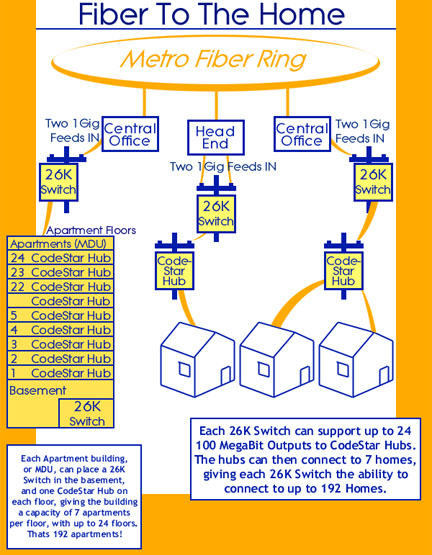 *max users per hub is 744, DBAS recommends limiting the amount of users in a FTTH application to 192 to guarantee video bandwidth and IP telephone response

Fiber to the Home

Our same DBAS Smart Switch, CodeStar and CodeNet architecture can be used
By cable operators or network service providers to bring fiber to individual residences
By building owners to provision multiple dwelling units (MDU) with fiber With up to 192* users per SmartSwitch, the DBAS solution can solve today's access delivery bottleneck and bring much talked about applications to the home.
Use DBAS' proven technology to deploy large fiber LANs and WANs

DBAS enables you to configure a reliable fiber optic data or converged network with proven technology at a lower price than copper or active fiber alternatives

Our patented solution provides a low-cost passive fiber optic network using the popular star topology. DBAS offers the only passive optical Ethernet Network Interface Card in the market today. For the past 15 years, our CodeNet Architecture has been providing 10 Mbps passive optical local area networks.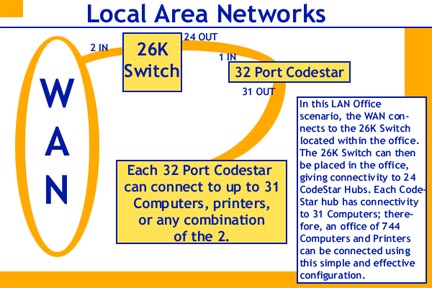 Now, our new Smart Switch enhances the CodeNet architecture to support
Up to 24 hubs and 744 users
100 mbps multi or single mode fiber
2 single gigabit uplinks
The DBAS Advantage

Low Cost
- Our CodeNet network interface cards use LEDs, which are substantially more cost-efficient than laser-based NICs
- Our CodeStar Passive Hub uses optical splitter/combiner technology. With no optical to electrical conversions, the hub requires no power - for lower total cost of ownership

Highly Functional
- DBAS LANs comply with the standard 802.3 protocols and contain the full functionality needed to operate a true Ethernet network
- Our patented collision technology enables true peer to peer relationships
- DBAS passive fiber technology has a range of 1.6 km - far greater than copper, and suitable for warehouse and campus situations
- Our CodeNet NICs operate with Microsoft Windows, Novell, TCP/IP, and other popular system software and OS interfaces
- The CodeStar Hub technology supports WDM and VPNs

Versatile
- Because the hub requires no electrical connections, it is compact, lightweight and can be installed virtually anywhere
- The small office configuration is scalable, with up to 32 users per hub, and easily expandable to a multi-hub configuration

Reliable
- Because the CodeStar Hub is completely passive, it virtually eliminates the single point of failure inherent in active star networks
- The CodeStar Hub can be installed in hostile environments such as telephone poles and building ducts
- Without lightening protection
- Temperatures of -40O to +75O C
- No heat, no power, no fire hazard

View Our Company Info, or send in a Request For Quote.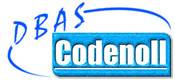 Passive Ethernet
Active Ethernet
Hubs
Switches
Request For Quote
New Products
Downloads
Manuals
Troubleshooting
E-mail Tech Support